Model 7500 V-Force Gin Trash
Spreader with 19" High Volume Extension

Industrial Gin Trash Spreader

Meyer provides a spreader that will spread
Gin Trash efficiently and economically.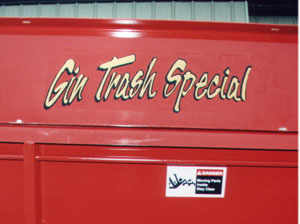 Consistent Spread Pattern - That's Our Specialty!
| | |
| --- | --- |
| | |
| 76" tread width - 7500 w/11Rx22.5 | |
The patented rear unload system will give you the most consistent spread
pattern. The high speed rear expellers break up gin trash so your fields are
free of clumps and the rear discharge design nearly eliminates gusty winds
from altering the coverage pattern.
More Spreader For Your Money
The Meyer Super Spreader not only does a superior job of applying your
Gin Trash, it's also capable of spreading cattle manure, poultry litter and
sludge products as well!
The automatic oiler system is activated

by the rear gate. Every time you use

your spreader the chains get oiled.

Pictured with no

Height Extensions.

The two large 20" augers (23" on Industrial) are made of 3/8" sectional flighting. The heavier gauge steel will add years of life to your spreader. The 3rd auger runs forward which keeps weight on your tractor and eliminates bridging.
Let Meyer Spread Your Gin Trash the Easy Way
The Meyer Spreader is a solid unit made of heavy rust-resistant
steel. The tank has a 10-year warranty against
rust-through. Check this spreader out before you buy.
Your Meyer dealer will do a demo on your farm.
| | |
| --- | --- |
| | This CUTAWAY DIAGRAM illustrates the SUPER SPREADER'S patented rear unload design. Material is directed straight out the large back gate of the spreader by two lower augers while the upper auger runs forward to eliminate bridging. This system requires much less horsepower and unloading time than side discharge spreaders. And the tractor and spreader stays clean too! |
Dimensions/Specs.

V-Force 7500

Ind. 8720

Ind. 8865

Capacity Bushels/cu.ft.
(V-Force includes 19" Flared Ext.)

795/525

720/475

865/562

Weight

9,300 lbs.

13,720 lbs.

18,140 lbs.

Height (Loading)

88.5" w/16.5Lx16.1

87" w/21.5Lx16.1

88" w/28Lx26

Overall Width


98.5"
(Outside Tank Ext.)

118" w/21.5Lx16/1
(Outside Tires)

141" w/28Lx26
(Outside Tires)

Tread Width

76" w/11R

99.5" w/21.56

113" w/28Lx26

Tank Length
Overall Length

15'
23' 4"

16' 8"
26' 6"

20'
29' 10"

Max. Load
w/Spreader Weight

32,000#
Tandem

40,000#
Tandem

60,000#
Hi-Float Tandem

Roller Chain Drive

80-120

80-120-140

80-120-140

Constant Velocity PTO
w/Overrunning Clutch

Standard
540 RPM

Standard
1000 RPM

Standard
1000 RPM

Axle

Tandem

Tandem

Tandem

Hub Size

8 bolt-8000#

10-bolt - 15,000#

10-bolt - 20,000#

Spindle Size

3"

3 1/2"

4 1/2"

Frame Construction

8" Channel

8" Channel

8" Channel

Door Opening

27" X 42"

32" X 53"

32" X 53"

Hopper Steel Copper Bearing

3/16"

1/4"

1/4"

Lower Auger Diameter

20"

23"

23"

Auger Flighting Thickness

3/8" sectional

3/8" sectional

3/8" sectional

Drive Line Protection

Overrunning
Slip Clutch

Overrunning
Slip Clutch

Overrunning
Slip Clutch

Lower Auger Shear Hubs

Standard

Standard

Standard

Expeller Speed

690 RPM

716 RPM

716 RPM

Auger Speed

20 RPM

11 RPM

11 RPM

H.P. Requirements Min.

110

140

160

Auto Oiler

Standard

Standard

Standard

3rd Auger (for solid materials)

Standard

Standard

Standard

Height Extension (19" High Volume)

Standard

N/A

N/A

Hydraulic Lid

Optional

Optional

Optional

19" Longer Hitch

Optional

N/A

N/A

Safety Chain

Optional

Optional

Optional

1000 RPM PTO

Optional

Standard

Standard

540 RPM

Standard

N/A

N/A

Light Package

Standard

Standard

Standard

Truck Mount

Optional

Optional

Optional